must have coffee!!!!!
Monday, February 11, 2008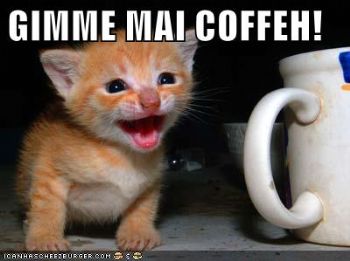 Monday's!! running late, no time for coffee today. Saturday weigh in ...good....but my scale is going the wrong way now!! I did theLAWL take off for two days, an dlost 3 pounds, now two days late have gained it right back!! talk about frustration!!! then I check my bank account online, and guess what!?! it's messed up again!! I give up closing it this time. Really want some junk food, but I'm at work and I purposely don't bring junk here. So I called my mom and bribed her with someLA lite bars if she'd go get me a coffee. ( She's on the lawl program with me) lol Coffee will hopefully serve as my invisable chocolate cake!!
ok so I'm gonna go weigh in tonight after work and make them give me less food. They changed all the plans a few months ago, and they all have more food on them. I did better with less food. Yes I have been doing tae bo which could mean more muscle, but this is where I typically lose heart. I lose good then gain it back, horrible cycle.
Where's my team?? I need a kick in the pants today.