Just for my friend ERIN1022
Thursday, August 28, 2008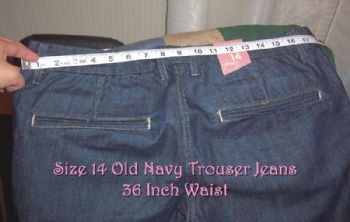 Erin, I wanted to SHOW you what I mean about sizes being off. I wish I had a size 12 to show you but I don't so I'll give you an example with a size 14.
These are brand new size 14 Old Navy Trouser Jeans (super in-style right now, lol) I bought them around Christmas and was in a different size before I could wear them. Anyhow, if you go to the Old Navy website and look at the size charts for pants it'll say that you have to be a 33 inch waist to wear a size 14. NOT TRUE, NOT TRUE! Their stuff is always bigger than they say. (and I love them for that! God bless their hearts for making me feel skinny all the time, hehehe)
If you can see in this picture....which I have no idea if it's actually going to be big enough to be visable on here, you'll see that the measurement on these pants is 18 inches across. A size 36 inch waist. Soooooo, once again, don't be discouraged by stupid size charts. Just pick stores that know how to treat a lady! HAHAHAHA
I was going to sell these pants on Ebay, anyone interested in buying them?