Why did I think I was fat?
Thursday, September 11, 2008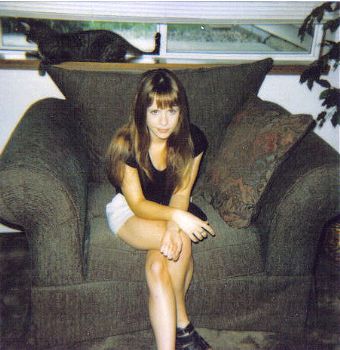 I came across this picture of me the other day and decided to scan it onto my computer. This picture brings up very mixed emotions for me. It was taken in the summer of 2001 as I was recovering from anorexia. I had gained about 15 pounds and if you see, I was very insecure in this picture, trying to "hide my fat." How in the heck could I ever think I was fat at 120 pounds? Clearly, I was not thinking straight.
It is now 7 years later and in these past few years I've been yo-yo-ing from 175 to 140 and trying hard not to look at myself so negatively like I once did. It's a struggle for me everyday. I'm glad I found this picture to remind me of how sick I once was and how different I am now. I am currently 146 pounds, aiming to lose another 10 and once I get there, I definitely wont be looking at pictures of myself telling myself, "I'm fat," when clearly I am not.