Vacation is over, time to stop slacking!
Thursday, October 09, 2008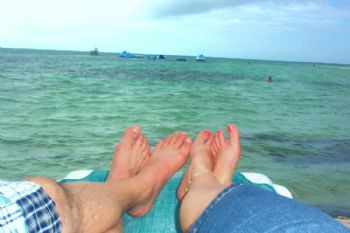 Today is the day I am going to stop slacking and get back on track!
My husband and I went on a wonderful vacation, a cruise to the Bahamas. We had more fun than we could imagine. I had heard that the average person gains two pounds+ per day on a cruise soooo, I went with the mindset that I was only going to gain 5 pounds and not 10 (it was a 5 day cruise, we also spent 3 days in Florida) well, I DID IT! I only ended up gaining 4 pounds during my trip. We ate freely while we were there but we did a lot of walking. We took the stairs instead of the elevators on the ship (that's 14 floors, several times a day) and on our ports of call (Coco Cay, a private island and Nassau) we did a lot of sight seeing, walking nature trails and such. I had the opportunity to use the ship's gym but I opted out because I decided that it was VACATION and well, I was going to enjoy my break from reality a bit.
Anyhow, I have been home since Sunday (it's now Thursday) and I have to admit, I've had a really hard time getting back into the swing of things. Yesterday, I even had a large sized whopper meal from Burger King, YIKES! Needless to say, I weighed myself this morning and I am at 149.5, so I've gained an extra 1.5 pounds just while I've been home. (I'm just going to call it 150 on my tracker, I don't like decimal points.)
I had fun while it lasted but I am READY to get myself together and get back on track. I now have 14 pounds to lose to get to a healthy BMI which has been my initial goal.
My 28th birthday is this coming Sunday and there will be cake or pie involved. I'm prepared to plan ahead and eat in moderation that day, I promise.
That's it for now, wish me luck!